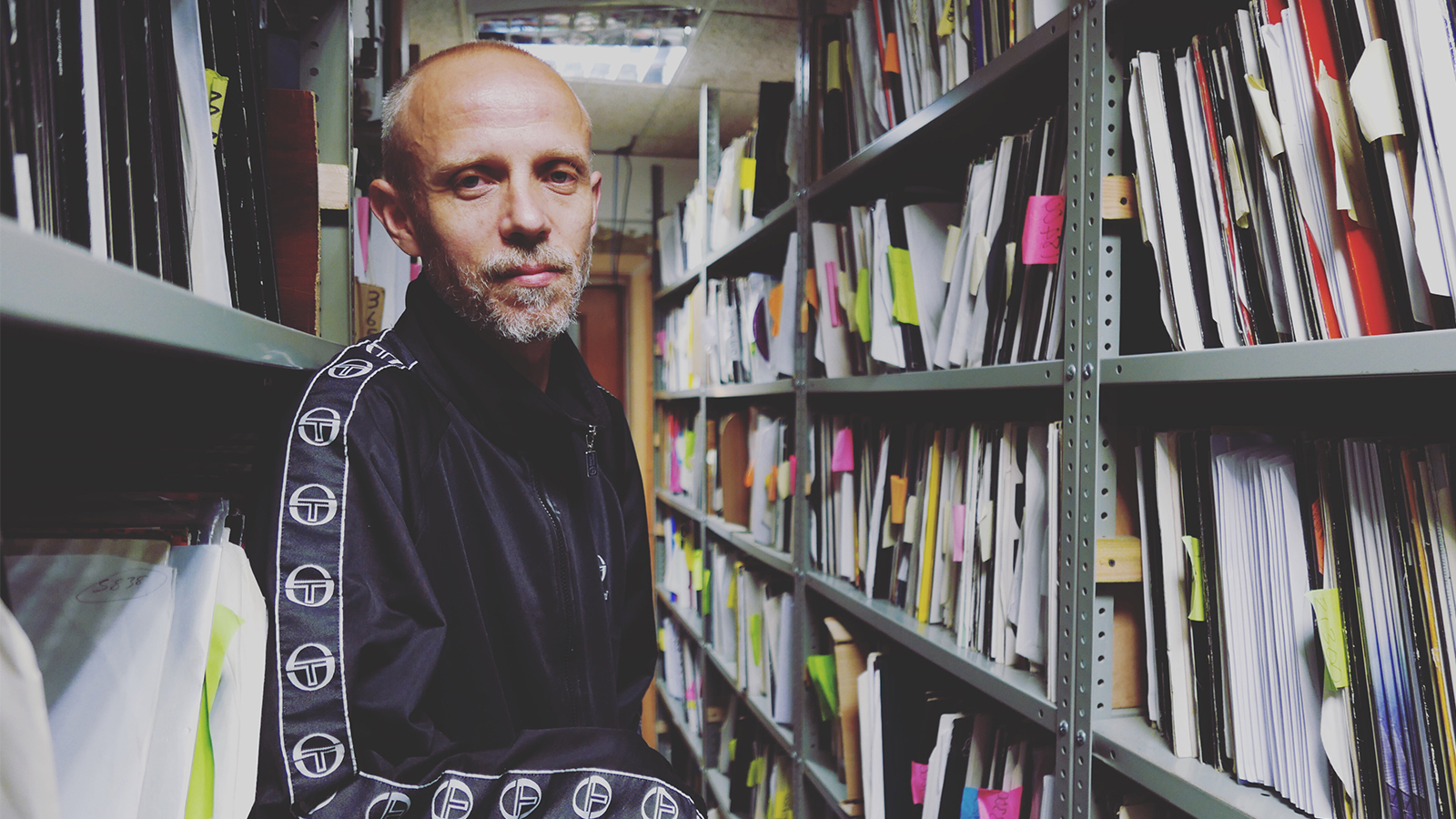 ISHIO DAI - our first meet point was,,,,  swamp81 gig in germany 2015. Maybe …. and last summer at MIXMAG's streaming show. its was with Loefah Benton Fabio DJRon ….
BENNY ILL - Yes, we first met at Swamp 81's "81 Berlin - BBS Special" an event held at the Ohm space in the Tresor building, a Wednesday night affair which focussed on the Hardcore, Jungle and Breakbeat spectrum of music, the signature vibe of Swamp 81's offshoot Benton Beats (BBS) . In typical Berlin style, even a midweek event has the potential to run until 6 a.m. (and later!) and the party ran true to form, our entourage entered at the start time of 9pm and we all left as one at 6:55 a.m. (equipped with sunglasses) into the blinding light of a grey Berlin thursday morning. Appearing on the night were BBS frontman Benton, Loefah of Swamp 81 and DMZ, veteran Jungle specialist DJ Ron, Gloveman (DJ Hops of Hardwax Records, Berlin) and myself. As you can imagine with such a strong line-up, everyone "came with the goods" and we all dealt with the task in our own special way, delivering a particularly wide range of selections within the realms of the night's theme. I came with a selection of early breakbeat tunes encompassing the years of '88 - '91, Benton delivered a combination of his own dubplates plus classic Jungle and Hardcore tunes, Loefah continued the theme with his typical high quality Jungle selections from various years, DJ Ron with some '93 - '96 Jungle flavours, and Gloveman (DJ Hops) - a notable record collector delivered a wealth of Hardcore vinyl rarities. It was a legendary night for all concerned and I shall remember it well for a long time !
At this summer's "Mixmag Bunker: Benton Beats" show in Islington, London it was again a BBS affair in similar style, with the line-up only differing slightly. On this occasion, myself Loefah Benton and DJ Ron were joined by a childhood hero of mine, Fabio (who doubtless needs no introduction) and also we were supported by MC's: Sergeant Pokes (of DMZ fame) and the inimitable Jonny Banger (a Swamp 81 regular and owner of the Sportsbanger fashion brand). The music selections for this one were again along the same lines but different, encompassing a range from acid house through Hardcore and Jungle to Drum and Bass. Again a good wide selection within the parameters of the BBS brand and the results can be heard on the Mixmag Bunker site's archive.
ISHIO DAI - We will do gig in Japan next November. How feeling?
BENNY ILL - I'm excited to be travelling to Japan and in particular to play for this event, at the well-known record store Compufunk, whom I have heard have achieved fame in the field of underground dance music over the years. I'm looking forward to showcasing some of my various tastes in music, selections from my collection of tunes from across the years plus some of my own productions. This will be my debut show in Japan so that is doubly exciting, I've been DJing and releasing music around the world for many, many years so I'm sure there are Japanese people who are familiar with my history but I'll be glad to introduce my music to those who have not heard it before.
ISHIO DAI - First time in Japan right? Have you some image?
BENNY ILL - Yes, this trip will be not only my debut appearance but also my first ever journey to Japan. I am looking forward to this because I have for a long time been interested in Japanese culture and history. I'm a big movie fan with a particular interest in Asian cinema so I've collected and watched many Japanese films over the years and this gives me some idea of what to expect in terms of geography, scenery and the environment in general. I'm also a motor-car enthusiast and have for many years owned, restored and driven classic Japanese cars - so I've learned a bit about the country through that pursuit. I don't know very much about the underground dance music scenes in Tokyo and Osaka so I guess I will learn a little about that.
ISHIO DAI - Last 2016's HP album was brilliant. Did you get next image from that point?
BENNY ILL - Yes, we were happy with the results of our last album "Crooks, Crime & Corruption". It featured a variation of different music styles so we felt it was a good listening album that was designed to hear end to end, played right through. But it requires a listener with quite wide music tastes so it wasn't for everyone! Hopefully at least one or two tracks to please everyone though. We were very happy with the record packaging, designed by Stuart Hammersley of GiveUpArt (London) : he's the guy that has done many of Tempa Recordings album covers and many of the designs for Rinse FM. The LP packaging featured a clever design using adhesive packing tape that was printed with the title and track list for the album, and each sleeve was hand wrapped in the tape - making every copy a unique piece. I don't think I've ever seen this done before so it's probably a first in record packaging design !
After the album came out I went on to focus on a few solo projects and did some work with other artists in a technical capacity, recording - mixing and mastering. Also I had a bit more time to do some DJ shows, so I went to play in Germany, Italy, Hungary, Holland and the U.S.A
ISHIO DAI - Your first release was 80's right? Then Released TEMPA SWAMP81 etc UK independent TOP label. We want know the mean
BENNY ILL - I started to experiment in DJing in the late 80's but didn't move on to try music production until the early 90's. My first release was actually in 1993, myself and a music partner, Bill Fuller, got together on early productions and we started a record label called Sonar Audio Research. We had about 4 releases on this, mostly our own productions and it did relatively well for a first start. The music was quite experimental stuff in the field of acid house / techno and we managed to get a bit of attention from that which led us to releasing together and separately on several other labels. Eventually we were picked up by German Techno imprint Harthouse for their London based offshoot, Harthouse UK and we recorded a number of 12"s and an album for them as "Bill & Ben". Again these were experimental in feel and contained elements of Dub, Techno, Hip Hop, and funk. Later on, around 1998 came the start of the Horsepower Productions material. Myself and DJ friends had previously established a sound system of the same name and after that time I got together with Matt HP and Nassis to make some productions in the field of UK Garage, which went on to make up the first 4 or 5 releases on the Tempa Recordings label. Being a well known part of the music scene of Dubstep, later came other releases for Tempa and for Mala's Deep Medi Musik label. At around '07 I started some unreleased productions with Loefah of Swamp 81 and DJ at some of his club nights and radio shows, and this led to an eventual release on the label and further work on the BBS imprint which brings things up to the current day.
ISHIO DAI - and we collaboration make your vinyl form my label. Why accept me?
BENNY ILL - I'm excited to announce the latest Horsepower Productions tracks will release on Effective96 ! Myself and Matt HP have continued to collaborate on tracks since beyond the last album, which although released in 2016, had actually been completed by 2014. Most of this material has yet to be released but when I was asked to provide tracks for a vinyl 12" on Effective96, we got together to complete a couple of new titles to use for this purpose. As many people know, we've always been strong supporters of the format of vinyl records and so a chance to release on a label whose owner shares this passion was worthy of acceptance. The tracks we are presenting on this release also give us the chance to showcase some of the new directions we are taking with the brand, and we hope it might be a good introduction for the Japanese market too.
ISHIO DAI - OK Final question. We want know your 10 years sound images.
BENNY ILL - The last ten years has been a strange time for music. The development of the internet has led to a transition in the way we listen to music and in the way music is spread and distributed. Geographically localised music has given way to a worldwide scene with tracks reaching every part of the globe within seconds. The development of brand new genres has suffered due to a lack of "incubation time", which formerly contributed to the development of strong localised scenes in the underground dance movement. This is not to say music itself has suffered as such, as there has been prolific output from artists and an unprecedented amount of music events with which to showcase new material. Within the many spectrums of dance music there has been interesting development as musicians strive to create new vibes and in my opinion there has been a general move toward eclecticism in the tastes of many listeners, with more of the audience prepared to embrace different aspects of music and open up to new ideas and crossovers. This is healthy because with the lack of a predominant leading genre as it seems we had in times previous, there are new openings for creativity. The widespread and affordable availability of the means to create music, i.e. computers and software has led to an increase in the number of people across all demographics that are able to produce professional sounding output. In some cases there is beginning to be a turn toward the use of analog equipment, as the sound quality and results achievable are favoured; this is preventative in some sense (the financial cost) but in another sense it allows for more progress and creativity. Genres that are relatively new such as dubstep have seen a variation in styles over the 10 year period, with a return and reinvention of earlier fashions and the creation of new ones. House and Techno have seen similar developments arise and the increased size of new audiences (and markets) have provided some financial revenues for this to occur. The sales figures for individual tracks on underground scenes have seen a fall in terms of vinyl based products and the revenue from streaming and digital sales is low in comparison. But the profitability of music performance and DJing has seen an increase with so many new opportunities and in many ways this has been the driving force that has funded music artists to continue.
For the next ten years, what will happen is as always, difficult to predict. In terms of my solo projects and Horsepower Productions we will continue to persevere with experimentation and creation whilst retaining elements of our own signature flavour. The return and reinvention of previous styles is also a possibility, as fresh ears from new audiences discover what has gone before, and there's always room for creativity within classic genres if we are prepared to break down the confines of boundary without totally alienating the listeners. For example, new interest in existing scenes such as U.K. Garage may indeed welcome a fresh outlook providing that strays from the conventions are not pushed too far at a time. As producers from new generations explore the possibilities of genres established before their time, there is hope for positive mutations, crossovers and combinations. As always, I personally look forward to something fresh and new to appear on the music horizon, as do many other music lovers: but only time will tell if this will happen and what shape it will take.
All the above is only my own overstanding of what has been and what will come to take place in the future. Everyone has their own opinions, tastes and views of music so any such commentary is of course, highly subjective. As one person may lose interest in a particular field, another one may see new potential or other reasons for it's existence: progress is not necessarily the only way ahead as after all, music is music - just twelve notes make up the scale - and the enjoyment of classic tunes has no sell by date. For me, a spark of variety and invention is key but there's always enjoyment to be had from revisiting what we know and love.
ISHIO DAI - This is main point.  We want know your art's logic and decision.
BENNY ILL - The logic to what myself as an artist and the collaborations I've been involved with is quite complex to explain. On one hand the aim has been to be inventive and creative but at the same time we have the limitations of what we think will work commercially. Like everyone, I am restricted by my own limits: skills as a musician, producer and engineer but there's always the ability to learn and develop so this type of progress has also been a key area of focus. Another aspect is a concept of education: I make no claim of superiority and qualification as "teacher" but nevertheless with much of the music I have made there's been an attempt to highlight or bring interest to the history of music, film, and other arts. I have always tried to emulate the way that the early development of Hip-hop drew interest via sampling into the history of Soul, funk, blues and even reggae or disco music. Going back into the history of what we did as Horsepower and why the vibe decisions were made at the time, it all comes down to our backgrounds of music and what was happening at the time we began to create the first projects. In the late nineties, for many people the sound of the moment was U.K. Garage as anyone tuning in to London pirate stations at the time would observe. These community based radio stations were always a kind of barometer of what was popular on the streets, and as we approached the new millennium, there seemed to be an open-ness to creativity within the UKG field. This I guess had a lot to do with what we tried to create. We saw the UKG genre as a wide platform with many possibilities - the different styles accepted within it were diverse. There was the 4x4 beat material that leant heavily on it's U.S. predecessor but also contained some urban british flavour. There was the development of the 2-step style that strayed from the conventions and had a fresh sound to the ear but retained some of the sensibilities of the previous UKG sound. And there were other factions: the "breaks" style favoured by producers such as DJ Zinc (who had roots in the field of jungle and D'n'B) was very popular in garage dances at the time too. Also in some tracks of the era we began to see an injection of Caribbean Reggae flavour, aspects of Dub and Dancehall which had earlier appeared in the Jungle scene began to appear in UKG records too. All this led to a very open field for the producer looking to make a garage record, and this is the reason that interested us, and also why we were able to achieve some interest in out own slightly leftfield take on the genre.
---
Benny ill / Horsepower Productions
Everybody loves Benny ill! Selector par excellence and well known veteran and favourite of the underground music scene Benny remains on the forefront of dance music with a recent LP release on Tempa and plenty of new material and collaborations in production for future release. As a DJ Benny comes with an upfront and unreleased selection of his current choices and HP dubplates. Faithful to popularity Benny also continues to push the various sounds for which he is known such as "old skool" garage, vintage dub, dubstep new and old, disco and underground dance classics.
Benny ill has also been producing music for the past 20 years under many aliases including Horsepower Productions, High Plains Drifter, Dub War, Kid Deli, Mack One and Bill & Ben. He has worked on collaborations with some of the finest artists in london's club music scene incuding Loefah, Mala, NType, DJ Hatcha, and Benton (BBS).
Benny is a key member of the celebrated Horsepower Productions collective and his ongoing work as part of this continues to date, with new projects currently in progress. The latest Horsepower album, entitled "Crooks, Crime and Corruption" was released to critical acclaim by Tempa Recordings, who also released the previous 3 albums "Quest for the Sonic Bounty", "To The Rescue" and "In Fine Style" - and many previous 12" releases dating back to 2001.
One of the first DJ's to appear at the long running FWD>> night in London, and many times since at all the different venues since it's foundation in 2001, Benny was also found on the line up of the legendary DMZ nights for which he has also played since the outset.
Having performed as a DJ in various guises since 1993, Benny has played in many countries of the world for both underground and commercial promotions at clubs, festivals and on the radio. Over the years he has performed hundreds of DJ and live sets, achieving a high record of critical acclaim and a trusted reputation for his unique approach to music and genre selection. At one time or another he has played at most of London's famous and iconic venues, including Ministry of Sound, Heaven, Fabric and Plastic People to name but a few..
Recently he has been playing at Broken Dub House, SWAMP81 in London and Berlin, Deep Medi, and festivals including Glastonbury, Found (Heritage and Born&Bred), and Sonica Festival. Radio wise, Benny is currently a regular guest DJ at Rinse FM.
Horsepower Productions are known for their originality and unique style, and have inspired many with their groundbreaking approach to music creation. Many credit them along side El-B, Zed Bias and others for the creation of the genre known as Dubstep and were an important element in the establishment of the seminal Tempa Recordings imprint. Their debut LP/CD 'In Fine Style' was released in November 02 and is still available, noted as a classic by many scene commentators and other influential artists. Many of their early 12" releases (now mainly out of press) are highly sought after, and have been included on compilations representing the origins of the dubstep scene.
They have consistently delighted and surprised critics with their constantly innovative approach to production. What is most apparent when you hear their music is a diversity of influence, their inspiration drawn from a cross section of music culture including UK Garage, Techno, House, Reggae, Hip Hop, Jungle, Funk and Soul as well as a particular interest in films and cinema.
Selected releases:
When You Hold Me / Let's Dance (12")
Gorgon Sound / Triple 7 (12")
Vigilante / What We Do (Remix) (12")
Fist Of Fury / To The Beat Y'all (12")
Smokin' / The Swindle (12")
One U Need (12")
In Fine Style (LP/CD)
To The Rescue (LP/CD)
Quest for the Sonic Bounty (LP/CD)
Crooks, Crime & Corruption (LP/CD)
BENNY ILL: SWAMP91 (12")
Selected remixes:
Lee "Scratch' Perry - Excercising (12") [ ON-U-SOUND]
Yellowman - Zungguzungguguzungguzeng (12") [GREENSLEEVES RECORDS]
Elephant Man - Log On (Horsepower Productions Remix) (12") [GREENSLEEVES RECORDS]
Return to E (Horsepower Productions Remix) (12")[BERCEUSE HEROIQUE]
Weighty Plates Volume 1: Standard Flow (12")[EAST WEST RECORDS]
DJ Zinc – Flim (Horsepower Remix) (12") [BINGO BEATS]
Blackdown - Wicked Vibes (Horsepower OG Remix) [KEYSOUND RECS]
Benton - The Calling (BBS madness edit)[BENTON BEATS]
…and many more